'The next frontier for growth:' Why Allen Morris is betting on Bankhead for next project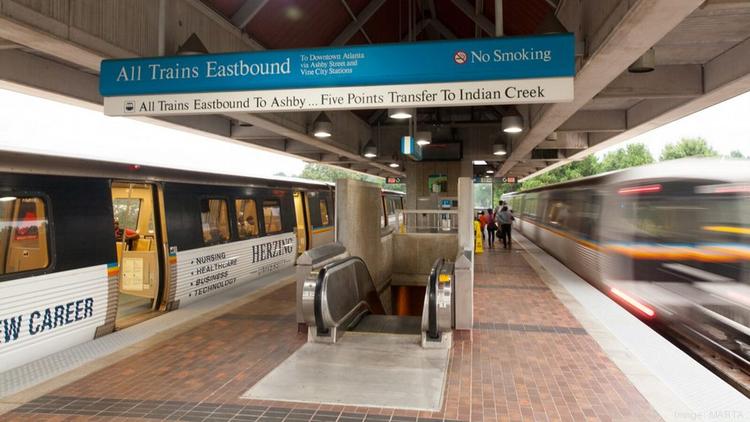 Though in the middle of building out its Star Metals district along Howell Mill, Allen Morris Co. has zeroed in on its next project.
A mixed-use development down the street from the Bankhead MARTA station is coming down the pipeline. Allen Morris paid $30 million for a 15-acre site along Donald Lee Hollowell Parkway earlier this month.
The site is just half a mile away from Microsoft Corp.'s planned campus in Grove Park, which could bring 15,000 jobs into the area. Allen Morris is an early investor in West Midtown, a former industrial area turned into a now bustling jobs district. The company's bet on the Westside is a testament to the area's early signs of growth.
The site is mostly vacant, though steeped in history: It was once occupied by a Standard Oil processing plant in the 1950s to 1970s. A gasoline filling station and machine and welding shop followed in the decades afterward.
It is too early in the development process to know exactly what will go on the site, Allen Morris chief investment officer Spencer Morris said. But two things are certain: the old buildings will stay, and the developer will work with the community to figure what types of properties will best serve the neighborhood.
Atlanta Business Chronicle: Talk about the genesis of the project.
Spencer Morris: We've always been believers in the growth story for the Westside of Atlanta. With the announcement of Microsoft, Georgia Tech's Science Square and the BeltLine coming through — the combination of all of those things got us thinking about the far Westside, and how we could be involved there, with the belief that that's kind of the next frontier for growth. So we've been looking at the far Westside for a while. This was an opportunity that came up and we're excited to be involved with it.
We don't really have any defined plans for exactly what we're going to be doing on the site. We'll probably perform an adaptive reuse and re-energize the warehouses on the site. We're going to spend the next few months and the year connecting with local stakeholders and neighborhood groups and figure out the best thing we can build in the neighborhood.
Adaptive reuse seems to have become a calling card of the Westside. 
These warehouses and older buildings speak so much to the history of Atlanta and to the Westside itself. You can't build a new project in the Westside without incorporating these buildings if the property has them. It's part of the heart and soul of what you're building. It's what makes the project unique to Atlanta. So we're firm believers that the buildings have to stay.
What was the history of this warehouse?
It's gone through a few different iterations. I believe when it was originally built it was a Standard Oil depot center.
Probably for the last six or seven years it's been vacant. I was just walking through the buildings last week, and we think that they have really unique bones and have the potential to be turned into great active spaces.
Besides ongoing development in the Westside, were there any other factors that indicated to Allen Morris that Bankhead was the next neighborhood where it wanted to begin a project?
The combination of the proximity to such a large public space in the Westside — Reservoir Park — that was a big determining factor for us. Microsoft's commitment to the Westside is a big deal. Once the BelLline is completed, you'll be able to connect to West Midtown in a five-minute bike ride.
We think public transportation is gonna play a big role in what we do here. We're broadly thinking about ideas of how we can have a connection to the Bankhead MARTA station, like a shuttle that runs back and forth between the property so that people can be fully connected without ever having to get into a car to access this site. So that's kind of part of the bigger picture vision here.
In conversations about development that's going on in the Westside, transportation often gets pulled up as a moot point or a challenge to navigate. Are you finding that these challenges over transportation are easing as time goes on? Or is it still an issue?
Because of the scale of Star Metals, we spent a considerable amount of time thinking through [transportation]. We have a few major solutions that we're working on from a city standpoint. The city has funded the Complete Streets program under Renew Atlanta to help improve the streetscape within West Midtown proper. That includes a dedicated bike lane, synchronized streetlights, repaving of Howell Mill, et cetera.
One of the things we're doing in the Star Metals office buildings is a dedicated shuttle that will run from the office building directly to the 10th Street MARTA station so people can forgo the car. We're also working on a dedicated left hand turn signal on 11th Street on Northside Drive. We think that will become an entry artery into the neighborhood instead of people having to navigate Howell Mill north and south. That's part of the strategic plan is just to keep people off of Howell Mill and provide other avenues for people to enter and exit the neighborhood.
Allen Morris is still early on into the planning phase. Do you have ideas over which asset types will definitely be in the Bankhead project? 
We're going to spend a lot of time talking to these neighborhood groups to determine what's in the best interest of the neighborhood, and I really mean that. The project will likely be mixed-use in nature and have a different variety of different uses in order to fully activate the site. What that becomes, I'm not sure, but I think that there will likely be a residential component and some type of creative office, flexible commercial component. We do want to bring the arts and artists into the project, and likely some degree of food and beverage or entertainment activations so that we can create a true kind of community hub.
Are there any strategies or lessons learned from developing Star Metals that Allen Morris will apply to this new project?
Part of our thesis to attract tenants to the Westside was to deliver a building that provided services that were far beyond what the traditional set of Class A office buildings had. In the case of Star Metals Offices, we have outside terraces on every floor, we have a rooftop bar and restaurant and we have multiple restaurants and bars on the ground level.
When we're thinking about the Donald Lee Hollowell site, we do have a commitment to do something the right way. We want to build something that's architecturally great and draw people to the property. We want to deliver something that fully connects to and is an extension of the BeltLine and Westside Reservoir Park. And how that manifests is yet to be seen as we go through the planning and development process.
Atlanta Business Chronicle