Fresh renderings: English Avenue's 'Vibe' set to debut next month
BeltLine-fronting project is first residential component of village-like Echo Street West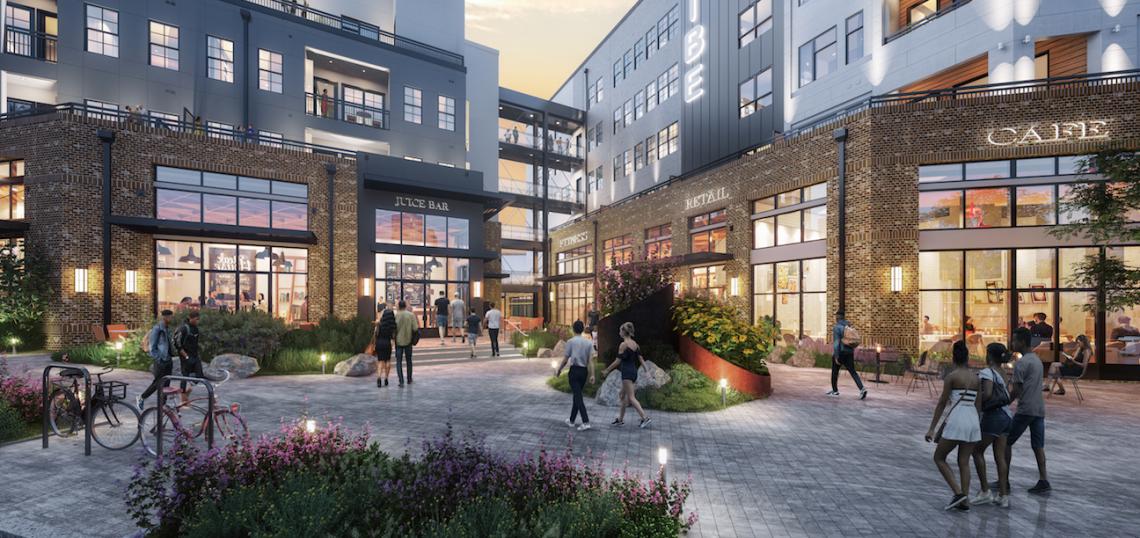 A Westside project billed as a "village of ideas" along the Atlanta BeltLine is on pace to welcome its first residents next month, bringing rental options like the English Avenue neighborhood hasn't seen before.
That's according to developers Lincoln Property Company, who provided new renderings today of the 292-unit Vibe at Echo Street West apartment project as construction nears completion.
The mid-rise Vibe project is the first residential section of the 19-acre, mixed-use venture that fronts the Westside BeltLine Connector trail and is expected, per developers, to appeal to the Georgia Tech community and tech-industry workers at places such as Microsoft's planned Westside campus.
Twenty percent of the Vibe apartments are being reserved as affordable housing for households earning up to 80 percent of the area's median income, which developers have noted is 5 percent more than the BeltLine overlay district requires.
The range of rent prices isn't specified on Vibe's website, where pre-leasing has begun. We asked for more specifics on rents but were told that information can't be disclosed yet.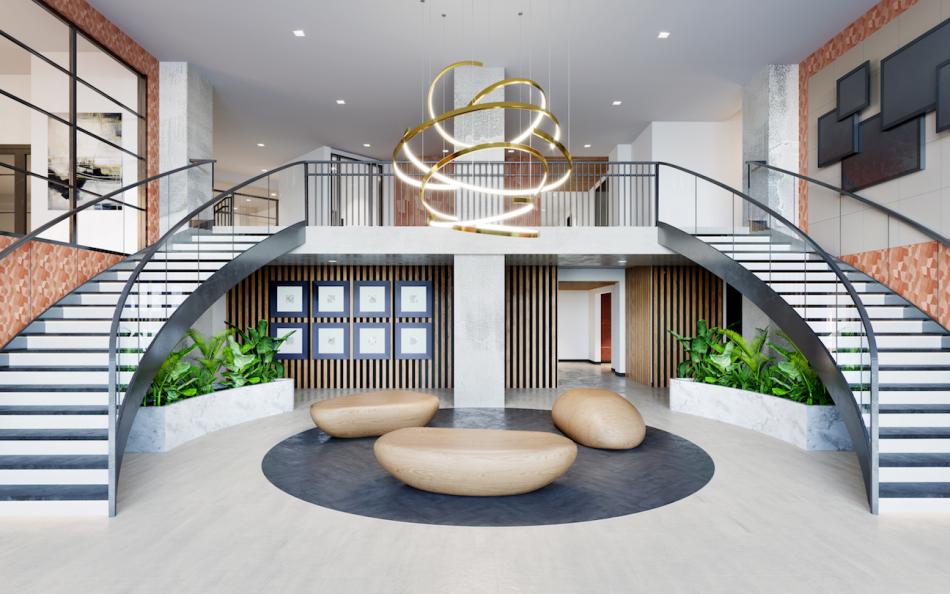 Courtesy of Lincoln Property Company; Dwell Design Studio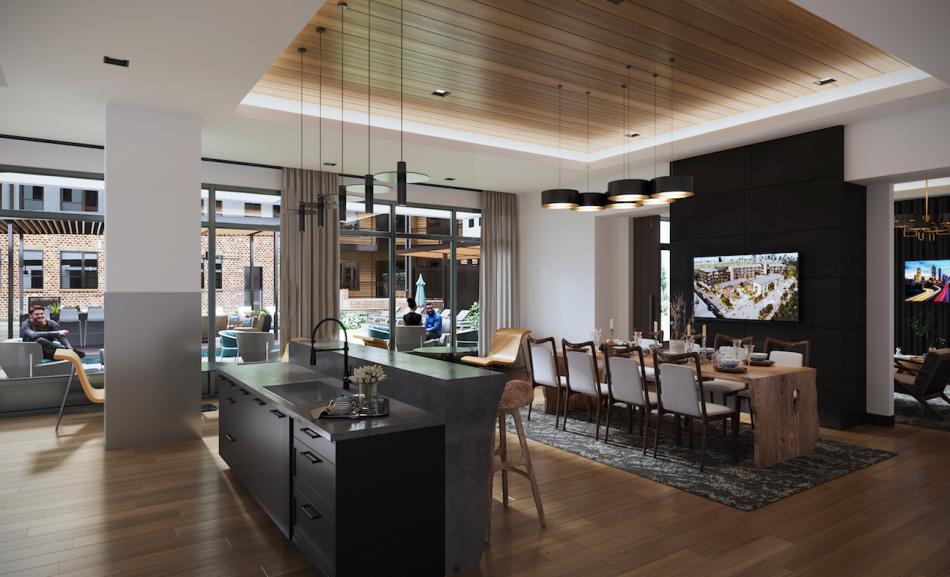 The resident lounge. Courtesy of Lincoln Property Company; Dwell Design Studio
Vibe floorplans will range from studios to two-bedroom units, with between 455 and 1,634 square feet, according to Lincoln officials. Some apartments will include rooftop decks and wine fridges, while others will have balconies overlooking the BeltLine.
At the five-story building's base will be 25,000 square feet of retail space with outdoor dining and storefronts along the BeltLine connector trail and Echo Street.
Amenities are set to include a pool area with cabanas, a workout courtyard, a podcast studio (that new intown standard), a bicycle storage area and repair shop with space for up to 100 bikes, a maker's room, pet spa, and 4,000-square-foot rooftop space.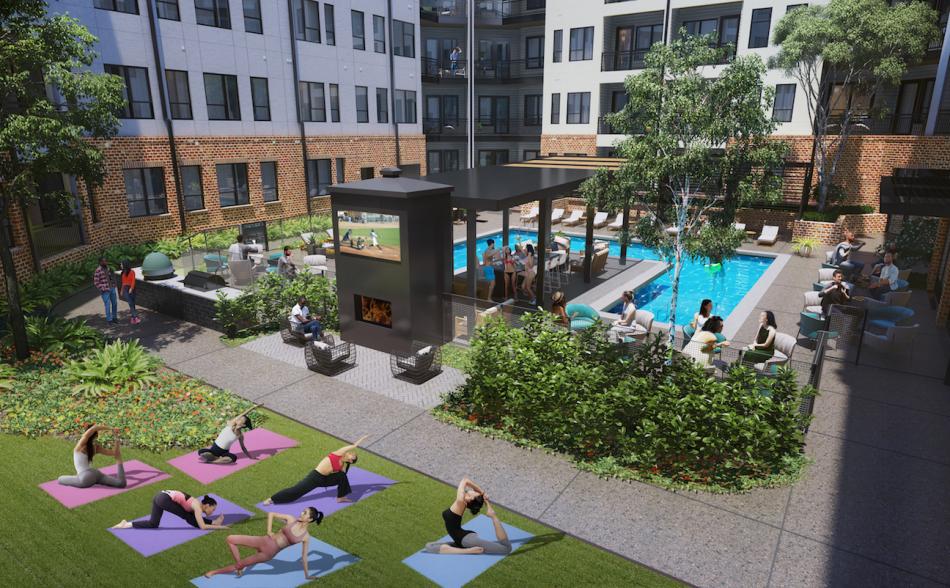 Courtesy of Lincoln Property Company; Dwell Design Studio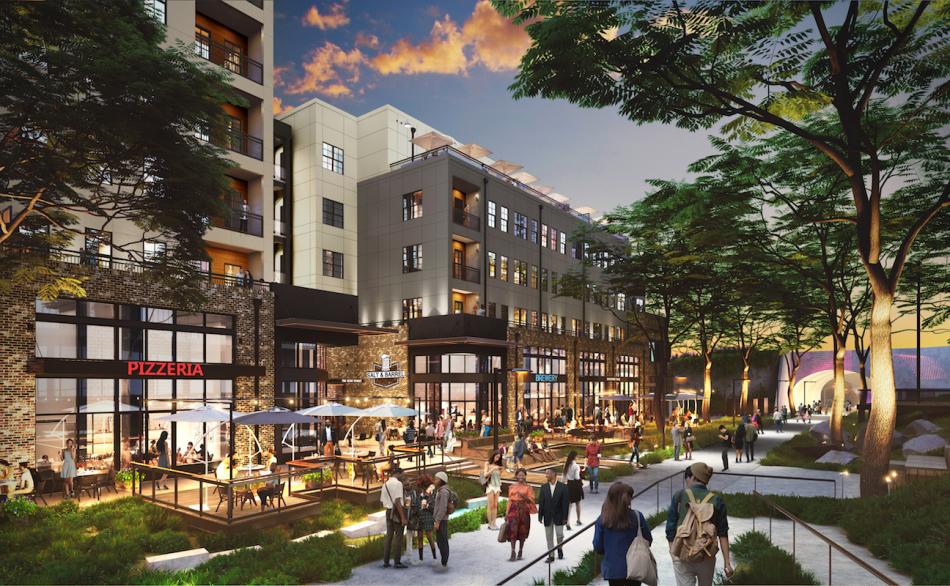 How the project is expected to relate to the Westside BeltLine Connector trail. Courtesy of Lincoln Property Company; Dwell Design Studio
The full first phase of Echo Street West is on track to deliver in summer 2023, Lincoln officials said this week.
Earlier this fall, on a parcel across the street from the apartments, the Westside Motor Lounge entertainment concept opened along Donald Lee Hollowell Parkway.
Echo Street West's phase one also includes 300,000 square feet of office space in a four-story building called 765 Echo (scheduled to open in the spring), 50,000 square feet for retail and restaurants, and about 3 and ½ acres of outdoor entertainment and parks space.
An adaptive-reuse events venue and artist colony opened last year at the northeastern section of the property.
DECEMBER 15, 2022, 3:37PM
By JOSH GREEN
Urbanize Atlanta