Atlanta's Westside residents are often left out of progress. Microsoft's training program hopes to change that.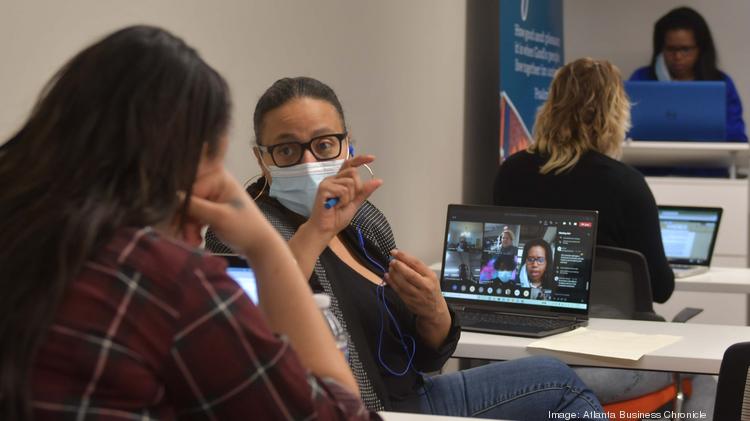 Consuela Deel gets home from her shift at UPS at 5 a.m. Then she opens her laptop to study.
Some days, she gets a couple hours of sleep by late morning. Other days, she goes to the City of Refuge, a faith-based community center and homeless shelter that hosts Microsoft Corp.'s Accelerate: Atlanta program, where she works with other students taking similar courses to sharpen their technology skills.
Deel works those long days and nights with the hope of landing a job in Microsoft's West Midtown office. She lost her executive assistant job at a church during the pandemic and started with UPS, first as a seasonal worker and now permanent, to pay the bills.
"Now that the Microsoft sign is up on the building, I get excited when I pass by," Deel said. "I could work there one day."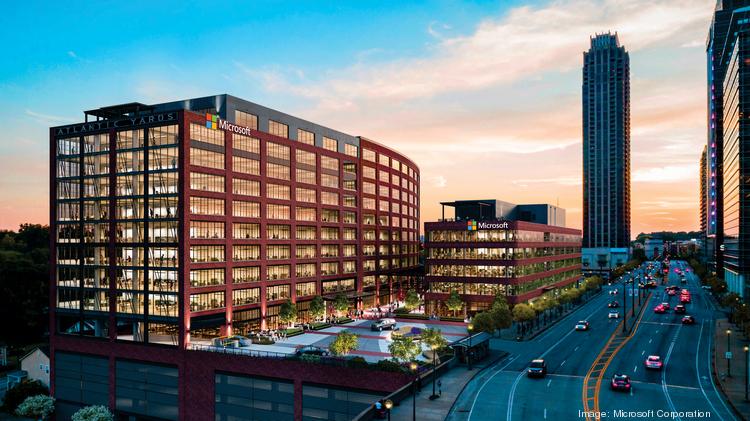 Microsoft's West Midtown office.
But Microsoft promised these plans would come with community engagement efforts to curb displacement and allow residents to benefit from its long-term investments into the area. The Westside campus is set to include affordable housing, a grocery store, bank and other amenities the community says it needs.
Microsoft's Accelerate: Atlanta program aims to upskill residents so they're prepared for the new opportunities Microsoft and other tech companies are bringing to the city. Community leaders say any job training programs should include much-needed services and soft skills education if the company truly wants to include Westside residents in its efforts.
Accelerate: Atlanta 
Microsoft launched the flagship Accelerate program in Atlanta in July 2020 as one of the first steps in its ongoing investment into the community. The program uses a network of already established nonprofits and organizations to recruit and train residents in digital skills with the goal of making the technology industry more inclusive.
Microsoft provides the curriculum for the virtual courses. People are placed at different levels depending on their existing technology skills, which are evaluated with a pre-test. The courses are 12- to 16-weeks long and could range from Microsoft fundamentals to more advanced coding.
TechBridge, a nonprofit that trains people in technology skills, was the first organization to start the Accelerate program. Sixty-eight of the 86 graduates are now employed, TechBridge CEO Nicole Armstrong said. Microsoft declined to comment on the program's total number of graduates and students.
TechBridge has spent two decades building relationships with local technology companies, which Armstrong said they leverage when helping the graduates land a job.
"Now that we're part of the Microsoft Accelerate program, we can be a lot more deliberate up front with Microsoft on leveraging their partners and identifying employment opportunities ahead of time," Armstrong said.
Madinah Ali, co-founder of Safe PC Solutions, teaches the Accelerate virtual courses in partnership with the City of Refuge, which connected about 32 students to the program. Students include women who live at the City of Refuge shelters and those, like Deel, who came looking for employment help.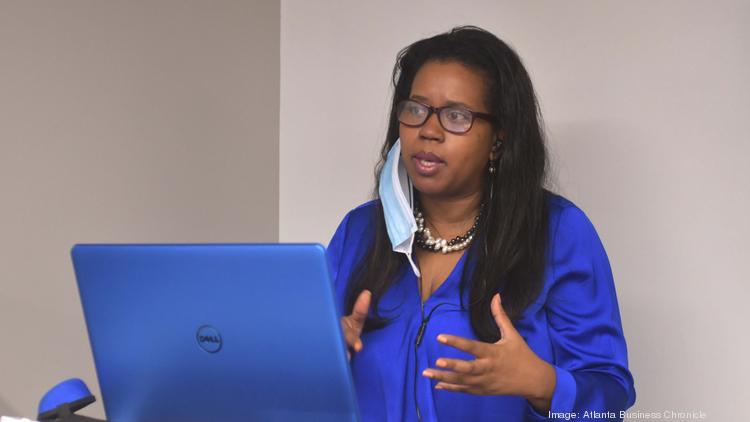 Safe PC Solutions co-founder Madinah Ali helps Accelerate program students with their courses at the City of Refuge.
Microsoft's program adds to the growing list of tech training programs that the City of Refuge is beginning to offer. The shelter started a coding program before the pandemic that had 30 students and has gotten jobs for 17, said Jeannie Ross, director of the workforce innovation hub.
City of Refuge is now adding more cybersecurity and coding programs after receiving a four-year grant from the Department of Labor, which plans to train 280 students in that timeframe, Ross said.
Naria Santa Lucia, Microsoft's digital inclusion lead, said the company also looks for Black-owned nonprofits and businesses to support the Accelerate: Atlanta program.
Microsoft has expanded the Accelerate program into Houston and worked with LinkedIn during the pandemic to provide free and low-cost technical and digital skills certifications. Santa Lucia said the companies reached more than 30 million people globally, 200,000 of whom were in Georgia.
At the end of March, Microsoft launched a career connector program to help people who take those online classes land a job in Microsoft's network. The company's goal is to help place 50,000 in the next three years, Santa Lucia said.
Shifting to skills-based hiring
Microsoft's programs are part of a growing trend in the technology industry to make job requirements focus more on skills than degrees in order to increase and diversify the applicant pool for much-needed positions. Google and Apple announced in 2018 they would no longer require employees to have a college degree.
"We think there could be a world one day where we are moving closer and closer to a skills-based hiring landscape," Santa Lucia said. "Only then can we truly have an inclusive economy."
That shift could help Atlanta close its infamous income inequality gap, which Opportunity Hub CEO and investor Rodney Sampson says is getting worse because of the high-growth tech companies. The city is balancing its booming tech industry with measures to include residents and curb rapid gentrification, hoping to not make the same mistakes that permeated the San Francisco Bay Area as Silicon Valley became a tech mecca.
Skills-based hiring may be one of the solutions.
Demand for information technology jobs increased by 4.1% during the pandemic. That rise was the highest from any of the top five employment industries in the Atlanta Regional Commission's 10-county area, according to ARC and Atlanta CareerRise data. During that same period, overall job demand dropped by 8%.
By focusing on certifications instead of four-year degrees as job prerequisites, companies could open their opportunities to more people and broaden their application pool, said Atlanta CareerRise Executive Director John Helton.
The average wage for IT jobs is $90,200, according to the ARC data, the highest of any category. The average wage for the top five employment industries is $54,300. Helton said IT jobs are becoming more popular because younger people already understand the digital landscape.
The Grove Park neighborhood has a median household income of $23,055, according to 2018 ARC data. Less than 10% of residents have a college degree.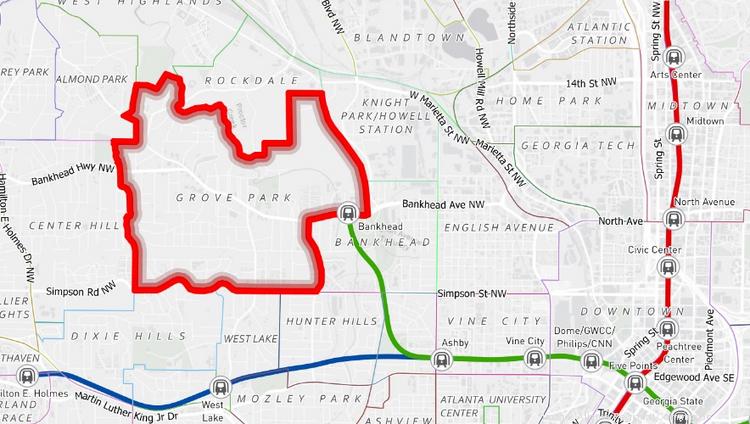 With Microsoft's growing influence in Atlanta, its decisions on how to staff its locations could create massive waves in Atlanta's technology and workforce development ecosystems.
Connecting to the community
The Accelerate program is for all Atlanta residents, not just those on the Westside closest to the planned campus in Grove Park.
"Accelerate: Atlanta aims to provide the highest-need citizens in the area with the access and tools to prepare for new and continued career trajectories in a post-COVID environment, regardless of demographic and economic background," a Microsoft spokesperson said of the requirements to join the program.
Westside residents may still get left out of the upskilling efforts because of personal circumstances, especially because the programs are not exclusively focused on them.
Grove Park Foundation President Debra Edelson said these programs need to do more than just train people in technical skills. Even if a program is free, residents may not be able to take time off work, find childcare or have the equipment to do the courses.
"Their level of daily struggle is a barrier to them taking hold of these opportunities," Edelson said about Westside residents.
Deel, who works nights at UPS and does the Accelerate program during the day, said she doesn't think she could handle that schedule if she also had children to care for.
The opportunities for nearby residents need to be "scaled to the talent that's in the community," said Tarnace Watkins, director of economic development for the Grove Park Foundation.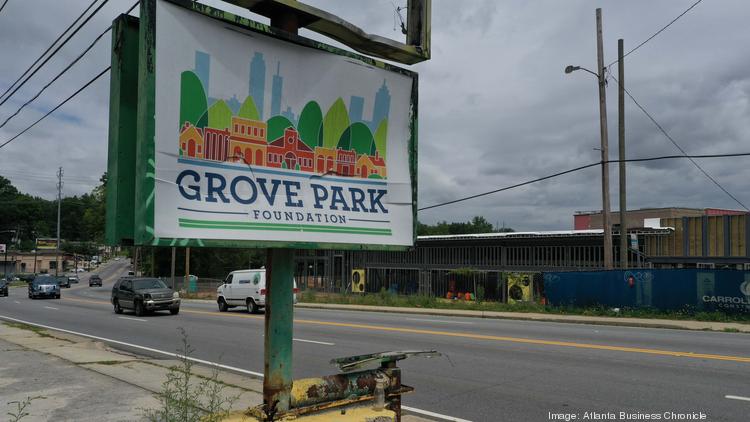 Leaders say soft skills education is a key component to making sure the Microsoft program accomplishes what it aims to do, which is lessen the digital divide and create a more inclusive workforce.
While Microsoft doesn't provide that soft skill training, the organizations that partner with the tech company integrate this education into the technical courses. Armstrong said students are paired with a TechBridge coach who stays with them through the first six months of employment. Ross said they have meals at City of Refuge for people taking classes at its innovation hub and pair people with mentors, among the other services at the shelter.
It's too early to say whether these efforts will curb displacement of longtime residents.
Members of the Westside Park Equitable Development Task Force, which includes Grove Park leaders, wrote in a letter to city officials that they're already seeing the "impacts of gentrification and dissolution in our community."
By 
Erin Schilling
   Technology Reporter/ Atlanta Inno, Atlanta Business Chronicle