AT A CROSSROADS
Microsoft Corp. is about to find out how it can bring 15,000 jobs into a Black working-class Atlanta neighborhood of just 5,000 people and avoid a pitfall of rapid gentrification — displacement.
Now several months after choosing Atlanta for its East Coast campus, Microsoft is said to be seeking a master planner for the development in Grove Park, a neighborhood largely excluded from the urban renaissance that has swept across much of the city over the past decade. This fact is illustrated by new apartment and office towers soaring just a couple of miles away in West Midtown and selling for record prices.
Grove Park, where the average disposable income has hovered just over $20,000 and almost one in three residents still live in poverty, is a reminder Atlanta ranks highest among U.S. cities in income inequality.
"We are in a position to make a difference in Grove Park," Microsoft President Brad Smith said earlier this year. But, he added, "Seeking to build a community that genuinely has a mixture of housing is one of the great challenges in the United States today."
Tracy Loh, a Brookings Institution researcher, said there is no "case study" of Big Tech expanding into a neighborhood where someone can say, 'look, truly inclusive development has happened here."
'The Microsoft Effect'
In Grove Park, Neighborhood Association President Brandon Pierre-Thomashas a name for the changes he's seeing in the wake of Microsoft's announcement this past February.
Along N. Eugenia Place where the 32-year-old attorney lives, a vacant lot just sold for $350,000, seven times what the previous investor paid just two years ago. Thomas calls it The Microsoft Effect.
Glachelle Barks, who sold the less-than 1-acre property to another investor, told Atlanta Business Chronicle she got a "number I liked" and "hopefully the neighborhood will be nicer than it is now."
The 5-acre patch of woods near Pierre-Thomas' house is owned by various real estate investors. Combined, their land could become an attractive site for a new apartment building or mixed-use development. Like Barks, the investors just need the right number, and they will sell.
"At this stage, I might not be able to afford to live here," Pierre-Thomas said.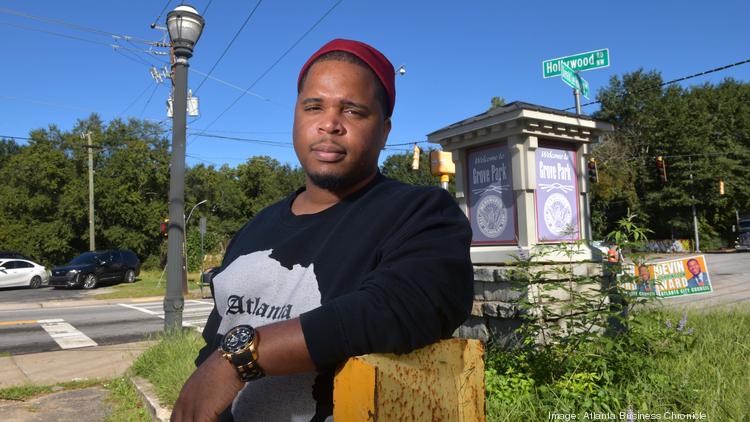 The biggest worries about displacement in Grove Park are focused on its longtime renters. Since Microsoft confirmed its plans for the 90-acre campus, 95% of Grove Park homes that were on the market went under contract, according to a recent study released by Urban Land Institute, a nonprofit research group focused on planning and development.
At least 75% of homes in the neighborhood are not owned by the occupants. Instead, many belong to investors and are rented to tenants. Investors have started flipping homes to new buyers as prices escalate.
'That's why I'm here'
Even before Microsoft announced its plans, the recently opened Westside Park — the largest greenspace in the city —and the planned Westside BeltLine trail began to draw the eyes of investors and developers.
Five years ago, the average median home price in Grove Park was just $174,900.Now, the rolling, 12-month median home price is $275,000, up 8% over the same time last year, according to First Multiple Listing Service.
That's still less than the average increase in home prices across the rest of metro Atlanta. But, this summer, a few Grove Park listings began reaching up to $350,000. Recently, a 4-bedroom on Holly Street hit the market for $500,000. The listing calls the neighborhood West Midtown.
At Grove Park Foundation, Director of Housing Freddie Stevens III works the phones daily, seeking homes for legacy residents at risk of being displaced. The Foundation's housing program is supported with philanthropic dollars that go toward buying and renovating homes in the range of $180,000. It then sells them to Grove Park renters seeking to become first-time homebuyers.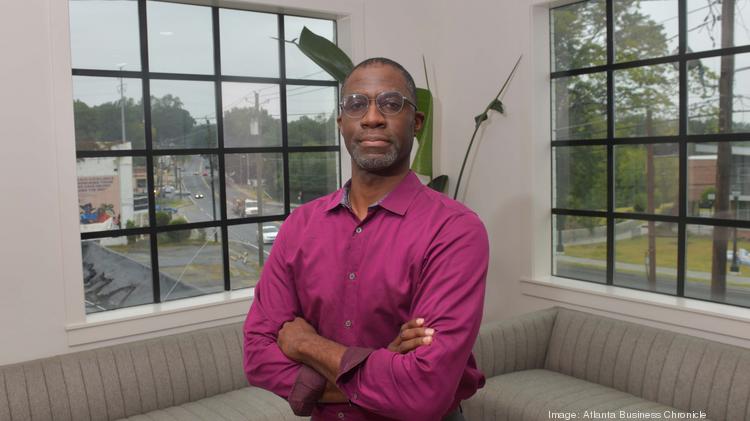 The Foundation needs about $30,000 to $50,000 in public and philanthropic dollars to buy the homes, which are often in poor shape and need substantial renovations. The more Grove Park property values climb, the harder it is for subsidies to keep up
"It makes it that much more challenging to create a model that says we can produce something affordable," Stevens said." Our job is to figure out how to make it work, and that's why I'm here."
At Grove Park Renewal, the nonprofit is managing about 30 housing units rented to neighborhood residents. Director Justin Bleeker says, "Our people … are so price sensitive that a $50 change in rent will cause them to move."
He says the window to add meaningful affordable housing is closing as gentrification sets in. "Many other neighborhoods have faced this," Bleeker said. "Ours is just on steroids."
A lesson from Seattle
Grove Park may share parallels with South Lake Union, a Seattle neighborhood transformed by two tech giants. Microsoft co-founder Paul Allen and his real estate venture Vulcan Inc. developed 60 acres and worked with the nearby community of Cascade to understand their needs, Brookings' Loh said.
Amazon, which had been shopping for a new headquarters, then moved in. It now occupies 40 buildings, and its expansion spurred a complete remake of South Lake Union and surrounding areas.
Between 2000 and 2015, the population almost doubled, and the median home value increased by 465%, according to the American Community Survey. These changes far outpaced the county's total population and housing cost increases.
Two years ago, Microsoft's Smith joined Chief Financial Officer Amy Hood in acknowledging "median income in Seattle didn't keep pace with rising housing costs." The company committed $500 million for Seattle's affordable housing solutions.
Learning from Reynoldstown
Back in Atlanta, even before Microsoft announced plans for its Grove Park campus, the city had a growing affordable housing problem of its own, especially along the BeltLine. In Reynoldstown, a historic Black neighborhood on the Eastside Trail, soaring home values are surging well into the $700,000s. Just three years ago, they were in the $300,000s.
In recent years, Reynoldstown's Black population has been cut in half, plummeting by almost 700 residents. Atlanta BeltLine Inc., which oversees the expansion of the pathway across the city, wants to get ahead of the same things happening in Westside neighborhoods.
It purchased 31 acres by Bankhead MARTA station, the station that serves Grove Park and that will get a significant expansion as Microsoft builds the campus around it. Atlanta BeltLine Inc. said it hopes to use the 31 acres to create affordable housing — part of the city's broader effort to provide 20,000 affordable units over the next five years.
The land-banking strategy also bolsters existing zoning for affordable homes and apartments that the city placed along some Westside BeltLine neighborhoods including Grove Park. The BeltLine will start a search for an affordable housing developer at the end of next year, but the units may not be built fast enough to prevent some Grove Park renters from having to relocate.
'We want jobs'
Microsoft is also anticipating the dearth of affordable housing, a challenge facing U.S. cities from the Sunbelt to Silicon Valley. It has promised 25% of its new Grove Park campus will be reserved for affordable housing, but has declined to give further details, saying it will remain in a "listening phase" until at least the end of the year.
Microsoft has held "three or four" community meetings and a few tours of the campus site, Grove Park's Pierre-Thomas said. The company also met with the neighborhood association via Zoom. Microsoft said it's planning a grocery store, pharmacy and job training opportunities. It also told the neighborhood association it plans to hire local support staff.
"Our desire to bring sustainable, positive impacts to the local community is the foundation of everything we're doing in Atlanta," Mike Lawings, regional director of Global Workplace Services Americas at Microsoft, told the Chronicle in a statement.
Pierre-Thomas remains optimistic but will hold Microsoft accountable for its promises. "We want jobs for people in the area, specifically for those familiar with Grove Park," he said. "Everything at this stage is just talk."
'We don't have to wait'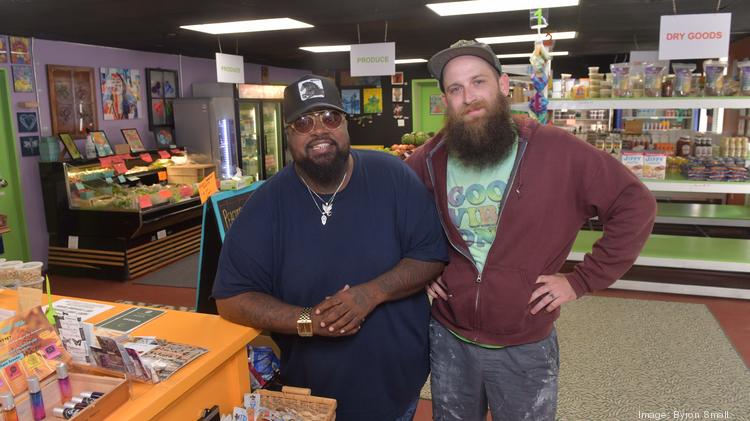 Some Grove Park residents are taking matters into their own hands, launching grassroots efforts to make sure the neighborhood is empowered to have a say in its future. For Space Mayfield and Matthew Jones, the first step starts at the dinner table.
Mayfield, a Grove Park native, and Jones, a recent transplant, opened The Grocery Spot in late August to give residents access to fresh food. The neighborhood is considered a food desert, according to the U.S. Department of Agriculture 2019 data.
Their farm-to-table shop also serves as a community gathering space and celebration of its history. The shop has murals of Civil Rights activists, including attorney Donald Lee Hollowell, the namesake of the road that serves as Grove Park's main street.
Jones mans the counter, chatting with long-time residents, encouraging them to stay engaged in local politics. He tells them to turn down offers from investors and developers. Jones is thinking of opening more shops to create a critical mass of small businesses run by Grove Park residents. That could counter the risk of developers who don't understand the neighborhood's history and culture.
Kacey Venning, a candidate for the at-large seat on Atlanta School Board District 7, dropped by the shop one morning and expressed hope for Grove Park.
"How change happens is what's important," Venning said. "I just don't think we have to wait until other folks are ready to converge on our community for you to start seeing something new and vibrant."
Reporters Chris Fuhrmeister, Donnell Suggs, Erin Schilling and Grace Donnelly and digital editor Maegan Smith contributed to this story.
Atlanta Business Chronicle
Updated